Discover the Ro & Arrows advantage
Raising the barre on performance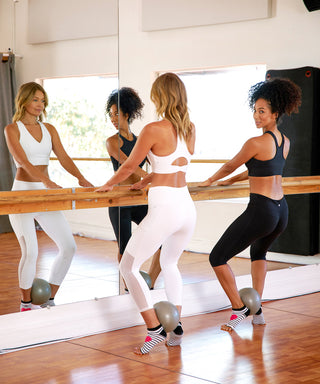 Enhanced Stability
Breeze through tippy-toe exercises with our patented low-profile grip socks. Say goodbye to sliding and wavering during your barre workout.
Ultimate Coziness
No more grip sliding during your workout. Our unique pocket heel feature ensures your sock stays in place, providing consistent traction.
Reduced Foot Strain
Our socks, made from a soft, cozy blend of 96% cotton and 4% elastane, offer an unmatched level of comfort to keep you at ease throughout your Barre session and beyond.
Rhiannon Grip Socks
Treat your feet to the unrivaled stability and comfort of the Rhiannon Grip Socks
Split-toe design: Ensure a firm grip for precise Barre movements.
Low-profile grip: Eliminate worries of slipping during your workout.
Material: Enjoy the cozy touch of 96% cotton and 4% elastane blend.
Maeve Crew Grip Socks
Step into your Barre class in style with the Maeve Retro Crew Socks.
Sturdy traction: Improve your balance and stability for a stronger Barre performance.
Versatile style: Can be worn scrunched down for a unique layered look.
Material: Experience the luxury of 96% cotton and 4% elastane blend.
Ready to transform your barre experience? Shop the lineup
See what barre enthusiasts are saying about Ro & Arrows

Elevate your barre practice with Ro & Arrows
Say hello to more focused and confident barre sessions.